日本人の奥さんを持つ根っからの親日家ベーシスト、ロビーがバンドの近況やいろんな情報を教えてくれる人気コラム「ROBBY'S LOBBY」!誌面から1月遅れで彼が執筆した英文ママの掲載です。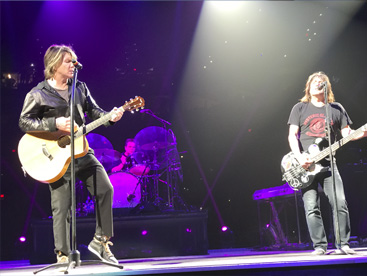 ---
Hey Hey In Rockers and Welcome to The Lobby, it's been a strange, strange winter here in the US, I just returned from the desert city of Las Vegas, Nevada for a show with Goo Goo Dolls and when I landed it was one degree colder than my hometown of Buffalo, NY and it snowed for 2 days! It NEVER EVER snows in Las Vegas; I think they said it happens maybe once every 10 years, but certainly never two days in a row. It really was a unique occurrence and since I grew up in what is sometimes considered the "Hokkaido of the United States" I was instantly blamed repeatedly by our crew and the locals for bringing the unusually cold weather to the desert, although I'd bet it's something much more scientifically complex than my inherent snowy vibes going on! Anyways, we had a great show, and had another stop in Oklahoma before returning home to spend some more time with the family before a month long studio lockout begins in Los Angeles as we finish up the new Goo Goo Dolls album (Due out this Summer)!
We're working with a bunch of producers on this new album, Sam Hollander (Panic at the Disco, Metro Station), Derek Fuhrman (O.A.R., Great Big World), Drew Pearson (Switchfoot, Lights) and Alex Aldi (Passion Pit, Bad Wolves) to name a few, we've been mostly coming up with ideas, writing and pulling things together for the past few months, now it's time to make the whole thing into an actual album for you all!
Goo Goo Dolls have an incredibly busy 2019 on the books, recording in March, rehearsals in April, a tour of Mexico in May, June through September with Train across the US and we just found out September and October will be bringing us to South America for our first ever shows on that continent! Some big news that I can't share the specifics about as of yet, but we will be sharing the details of these trips and the shows we'll be involved in very soon!
In other news …. I recently produced a single for an amazing young band called Beach Slang; an EP called "MPLS" is comprised of a couple of covers by Minneapolis legends Paul Westerberg (Replacements) and Bob Mould (Husker Du). Both of our bands were really a product of this Minneapolis music scene and it was a pleasure getting together and combining 3 generations of appreciation for that scene in this tidy little release. The EP was put pout this month on Bridge Nine Records on limited edition colored vinyl, the first pressings already sold out! Beach Slang came to my studio in Buffalo to record with myself and engineer Jay Zubricky a few months back after performing at The Music is Art Festival held every September here in Buffalo. Truly a bunch of awesome people, who are unbelievably creative and motivated and we hope to see more of this amazing band at our place in the future.
We have our Good Charamel Records label revving up for some action this year as well as another tour and release this Fall by Osaka's Shonen Knife who are currently in studio working on their latest release to be followed by a tour of Europe, The US and Australia at the years end. We also have a Brooklyn Sakura Matsuri appearance with The Molice, Pinky Doodle Poodle and DJ Sashimi all appearing together onstage for the annual April event in NYC. This will be the first time all 3 acts will be performing together, should be a great day!
That does it for me this month, I'll be writing next month from the studio in Los Angeles and maybe we'll try to give you a little taste of the actual recording process next time we meet up, a little tough to do in 700 words, but we've been good like that for over a decade now! Have a great month and we'll be talking to you soon here in the pages of the Mighty In Rock!
Peace!
Robby

●グースのサイトはこちら!
www.googoodolls.com

●ロビーのサイトはこちら!
http://robbyslobby.weebly.com/